V A L K Y R I E
An introduction to our Bridal Launch & how these gowns came to be.
The moments when I closed my eyes, I would find my home draped in wind-swept silks & palettes reminiscent of mystic mornings. It started off as an escape in my mind, the place I found myself running to in all my dreams.
I'd begin sketching my way through ideas, and draping muslins on my dress form before the sun would even dare to rise. I did this, day-in and day-out, fixated on this idea of escape and serenity to a land I'd known little about. I think that was the beauty of it all- it became my Neverland.
As my days would grow, I'd scrap one design for another, and critique myself to the point of omission. Nothing I dreamt was adequately depicted on paper, or manipulated respectfully onto the form. I struggled with captivating this dream of mine. I spent years designing collection-after-collection, that would one day become Valkyrie.
In the spring of 2016, I packed my Moleskin, laced my hiking boots and headed to Iceland with my love for our anniversary. An uncomfortably magical escape so raw and beautiful its near impossible to digest, let alone capture.
It was the land I ran to in my dreams, and the exact sky I'd imaged; painted with stardust that danced in the night. Finally, after years of trying to capture this sense of peace in my mind, there it was in the foreground. We hiked the rolling mountains for days and camped beside waterfalls. We sipped coffee as glaciers crumbled into the sea, and ran through the highlands speckled with roaming sheep. We had discovered a place within each of us that we'd always hoped to meet. A place where time stood still, and the breath was calm. It was exactly as we'd dreamt it. The skies draped in wind-swept silks, and the palettes were that of a mystic morning. We call it Neverland, our second home.
Fortunately, D & I have been able to run off to this Island resting just south of the Arctic Circle now a number of times. Each adventure building on the last and embodying this element of freedom juxtaposed with structure that I've clung to for so long.
I've jotted down notes, and sketched on folded napkins, snapped photos, and held on to the memories of that windy country tangling my hair. Over the course of many years, I've archived hundreds of designs that essentially represent moments of these adventures.
I put a significant amount of pressure on myself with this collection, after all, it would be my first Bridal Line under my own label. It was my launch, and what better way to kickstart a dream than by embodying it with the one that carried it through?
In June and July of 2018, I worked feverishly around the clock wrapping up custom bridal orders while sewing up my collection that would be launching come autumn. Each gown, took on its own personality, its own strength and carried its own story. My initial illustrations of what would be my FW19 collection, were quickly transformed into a depiction and representation of who I wish to surround myself with. Ultimately, who I aspire to be.
Playing with color, I wanted to drape my brides in the soft hues that painted the skies and to then parallel that with whisps of over-layed chiffon. I wanted to maintain an element of structure throughout this story, much like that of the Icelandic formations across the land. I wished to bring home that refreshingly crisp blue, so soft it read as silver. I desired to have a moment of shared elegance across the board, in its purest form, and to achieve the rushing whispers of surrounding waterfalls within these designs.
I strived to encapsulate a story both old and new. To incorporate the personas carried throughout Norse Mythology and the strength they all possessed. Each gown represents the Goddesses & Valkyries of their lore, female warriors whose love overruled fate, and the Goddesses that held onto that notion of overall compassion. Each gown has its own voice, and identity - watching them form into the ladies that they now are was one of the most rewarding accomplishments to date.
On October 5, 2018 , I released the first official Bridal Line of my career as an entrepreneur.
I'd like to introduce you to the launch of my Kit label, and this dream of mine I like to call Valkyrie.
Named after the Aurora Borealis with a skirt that flows with such grace. Her bodice is composed with seams that build structure and is softened with a subtle sweetheart neckline.
In norse mythology, The Aurora Borealis is believed to be the stars reflection against the armor of the Valkyries.
Kára is a valkyrie in norse mythology, whose name translates to "the wild & stormy one." She's a shortened number packed with a lot of character. Her bodice is constructed of staggered seams that mimic a sharpened poise that is paralleled with a wide scoop "V" neckline, "V" dips within the side seams and a moderate plunge in the back. Her skirt drapes beautifully with its subtle hi-low hemline and blooms beautifully with each twirl on the dance floor.
The collection was captured by Nashville Photographer, Jackie Osborne; Modeled by the beautiful Maggie Emmerick
She was the first lady in norse mythology, much like Eve in christian testaments. She is woman of innocence and natural beauty captivated with strength and growth. She is elegantly draped in pleated satin-faced organza.
She is the goddess of love, fertility & spring. Her skirt is made of a silk charmeuse, draped with layers of silk chiffon. Her train is flowing with a softened pink ombré that peaks through the natural white chiffon that cascades above.
Our Freyja skirt is seen here paired with our Nött Tank and cluster Sash.
The softened Goddess of spring and new beginnings. She is fitted in silk duchess satin and draped with whips of tulle that cross and pull to accentuate the figure. her skirt is composed of tulle in a freeing drape.
The Goddess who inspired compassion and embraces shear affection. This skirt is soft, and sweet, and flows to your beat. She is a silk charmeuse number that is draped and layered in a the most elegant fashion.
She is paired with our Nött Tank, named after the Goddess of the evenings. A 4-ply crêpe silk top with french darts and sweetened with silk gros grain ribbons that softly kiss the shoulders.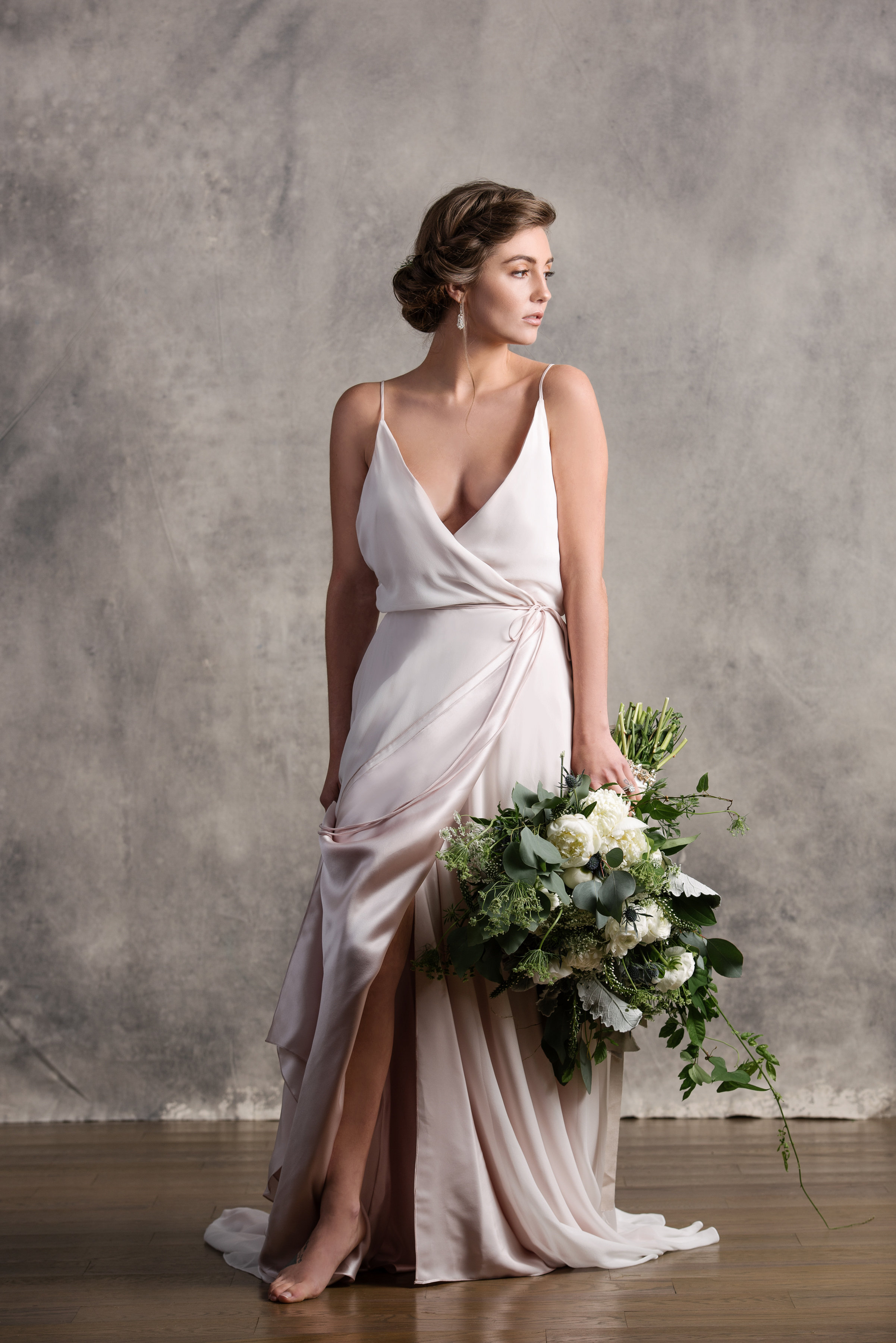 A personal favorite, as she is so gracefully poised. Layers of satin silk charmeuse, just beneath dreamy chiffon,are exposed as she walks down the aisle and takes her first dance. Eydis is a Goddess of good fortune in norse mythology. She's a wrap dress that slips onto any silhouette beautifully and complete with a bow.
A skirt that so eloquently embodies her name, a Goddess of eternal youth. She is a full skirt that is draped entirely of satin-faced organza with peaks of her exposed tulle crinoline that is lined in a buttery silk charmeuse. She is the perfect compilation of bohemian-chic, especially when paired with our free flowing Nött Tank.
Silk Duchess- Satin frames the figure, bracing for the frothy cascade of tulle in this mermaid gown. It comes with little surprise that this Goddess was the woman of the freeing water. She's soft and elegant and timeless.
A classic beauty. Braided layers of 4-ply silk crêpe embrace the plunged neckline that flows into the weighted drape of her skirt. Her name means light, and forever glowing.
Our covergirl. She is the Goddess in norse mythology that wears the armor and carries the shield. She is gorgeous and warlike. Her fitted form and angular seams expose her shear confidence. Made entirely of silk duchess satin, she has a sheen to her that reflects her strengths unto all who surround her.