"You Can Do This"
I'm a few days late in celebrating "International Women's Day," but lets be real, everyday is women's day. I am constantly counting my blessings in human form that surround me on the daily. Some a coffee date away, while others a plane ride. All of which are strong, independent, immaculate characters whom I can only pray I will someday reflect a fraction of.
My mom, for instance. She's ranked at the top of the list. I am truly in awe of this woman. She sacrificed everything, put her dreams on hold so that she could raise not one, or two, but S I X kids. She drove us from soccer fields to dance practice, to friends houses and doctor offices, and listened to our everyday adventures while kissing us good night and encouraging our sweet dreams to become our sweet reality.
A powerhouse, to say the least, she holds that number one position in my book.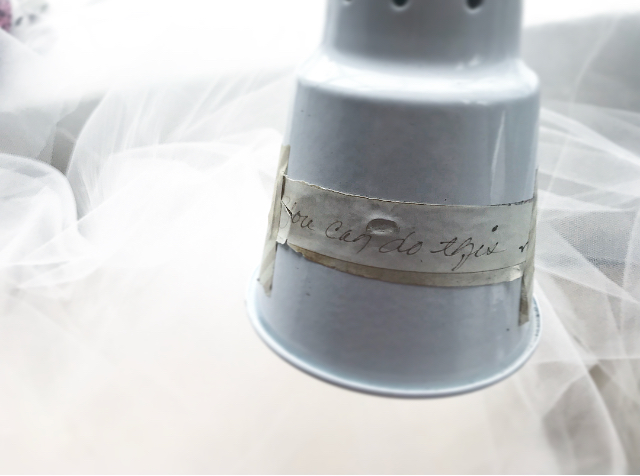 I've carried with me for 8 years & will forever hold onto.
I was living in Savannah, GA at the time, and I had just woken up from emergency surgery to this note taped on my sewing machine. I was in the final weeks of my Senior year at S.C.A.D. (The Savannah College of Art & Design) and had fallen ill. Mom caught word that I was going to the E.R. for the 4th time and anticipating it would be surgery this round, so she literally got on the next plane to Savannah to be beside me as I woke up.
It was the night before my final critique, when I went into surgery. My dean, my professor and classmates all participated in getting me to the hospital. I brought with me onto the gurney, my last few garments that needed tailoring before the presentation.
-- Now allow me to digress for a moment here. The amount of stress I was under, is truly one hard to explain. I think only those who have attended an art school, or SCAD in particular, can relate to the intensity & insanity that goes into every-single assignment.
My senior year was one made up of Pass/ fail assignments that would have you pulling so many all-nighters that you'd begin tallying up the minutes your eyelids held close and count it as a solid sleep.
Our senior year commenced the last day of junior critique, with a summer assignment that would determine your ranking as a senior. With this 3-month long assignment, the senior class is then divided into two groups-- those that would be candidates for the end-of-year fashion show, and those that wouldn't be. I was in. I worked my ass off to get there.
So fast forward to me having to surrender my last few hours of work time to surgery. Pathetic to think this way, I recognize now as an adult. I also recognize how stubborn I truly am in moments such as this; deadlines. I'll do whatever it takes to meet that deadline and I'll be damned if I don't give it my all.
"Mom armed and ready with my notions of needle, thread and the little stork snips she had gifted me years prior.... I spent the next couple of hours mending my collection. "
Here I was, anesthesia wearing off, tubes connected everywhere and my Mom beside me. I woke up with my senior collection placed in my lap, just as it was before going under. There was Mom, armed and ready with my notions of needle, thread, and the little Stork snips she had gifted me years prior. She had a look on her face that I'll never forget. It was one of empathy and perseverance.
I spent the next couple of hours mending my collection and handing it off to my Mom. She had been directed by my professor to present this collection on my behalf with the help of a classmate.
Critique was at 8AM sharp, with the presence of the most elite and influential names in the fashion Industry.
This wasn't only a critique, it was an interview, a gateway into the industry.
So there she was, right beside me, cheering me on as I tied off my last threads. And off she went, rushing to the studios moments before the clock struck eight, ensuring my collection had a hard press and final steam, and presenting a collection she knew little about to an audience that would more-or-less dictate my future.
Can we just say it again, P O W E R H O U S E.
I awoke in the hospital to my Mom sharing the final word that I had been disqualified due to the fine print of "Not being physically present at critique," despite my situation.
I felt completely defeated.
That the last 4 years I devoted to this moment were stripped of me and I spent the remaining weeks struggling to recover.
My Mom stayed with me, taking me in for doctors visits and pushing me around the city in my wheelchair, attending my 4-hour long classes with me and having extra clothing packed for when my incisions would tear open and bleed through. My surgery was poorly done, and as a result took me many months to fully recover.
She was there for me, giving up everything in her life to walk me through this chapter. I was weak, embarrassed, vulnerable, defeated and just down-right angry. Honestly, I don't think I showed my mom the grace and appreciation she deserved from me.
And yet, She taped those four simple words to my sewing machine, reminding me that this isn't over. This was not where my story ends, but rather, the beginning.
I was able to walk myself across the platform to accept my diploma, and make a run for my future. I packed up my one suitcase with enough essentials to live-off of, and purchased a one-way ticket into the setting sun, bound for New York City.
Her note, of course, amongst my most cherished possessions, was aboard that train with me.
It helped me graduate University, and overcome obstacles more grave than that surgery. Her note encouraged me to chase a dream in a jungle of concrete and pursue my career in the industry. It aided me through the numerous all-nighters that helped me tackle collection-after-collection, gown-after-gown, dressing A-listers that would pose on red carpets, and it helped lead me to the very decision that brought me here. Her little four-worded note soothed my mind and gave me the overall nudge to branch out in starting my own label and opening my first storefront.
I sit here today, at this very machine with that same note, fragile with age, in its exact position as 8 years ago. I'm in the final stretch of the launch with my first bridal line, tired, burnt-out, but dammit am I encouraged. I can do this, and you know what, I am.
Mom, from the bottom of my heart, thank you. Thank you for threading that needle and standing up for my vision. I don't even know if you filed this memory away as one of victory, but I certainly have. The way you encouraged each of us kids, pushed us beyond all obstacles is a gift worthy of praise. I hope to make you proud.
A couple clips from my Grand opening of Shop Kit nearly a year ago. And a sneak peek at my bridal line as I sew it up today, with a special focus on my mom's note. <3